I am not a sports fan. Fair weather fan at best, or a fan of the cutest players. So, given the stock in this Finals, frankly I don't give a damn, cause really, when it's all said and done, Spidey gets no ring, no bonus, no trophy, no bubbly, no hat and t-shirt, no nothing no matter who wins.
But in honor of the Basketball Fever that is shaking the nation, I would like to pay Homage to the men who actually made me watch the game. Ahhh you are thinking MJ, yeah I am a Chicago fan.. but nahhh.. Here is my NBA Honor Roll..
#5 Muggsy Bogues

He's tiny!! And in the NBA!! G0 Muggsy!!
I think he's the same height as me, just with a million times the skill.
#4 Chris Webber


Why? He's fine. Look at him. :-) eh, he did Tyra wrong, but he's fine! I still mad I skipped an invitation to a party where he showed up... Womp!
#4 Grant Hill

Who didn't have a pair of Grant Hills back in the day? When Fila was still hot and Grant Hill was the hottest thing out. So cute and boy next door.. Ooh I loved me some Grant Hill! And He was Rookie of the Year, along with that other guy who looks too funny to make it on the list. Go Grant. And now he is still super handsome and married to one of the most underrated singers out there, Tamia. (Listen to
Stranger in My House
and I dare ya to disagree.
#2 Vince Carter


Just look at him... YES!!! And he can
dunk!!
#1
Anfernee "Penny" Hardaway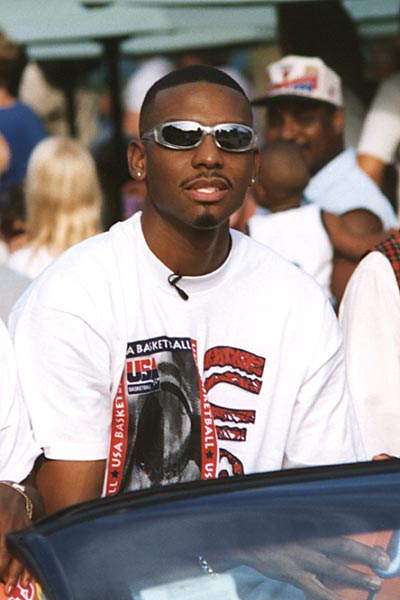 Gasp and Swooon.. Could I have been more in love with Penny Hardaway as a kid? I do not think so. I had both color jerseys in two different sizes so that I could be girly and cute or baggy and sporty with it. I had pictures of him up on the wall and still am jealous of the poster Enchanted had on her door. It was lifesize. All 6 feet 7 inches of that man on the wall!! He had the little Penny commercials, and I even saw wack ass
Blue Chips
more times than I would like to admit staring at him. ooooooh Weee.. Where is my boo now anyway?? Where for art thou Penny?